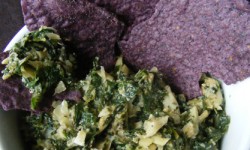 Ever try a recipe which you just know can't be any good, but you are willing to give it a try anyway because you know it's good for you, in fact, better for you than most other things … and then you are SHOCKED because it's way better than you dreamed of?
This is one of those recipes.
Who knew cashews could taste like cheese?
If you did know this, then how come you haven't said anything, like yelled it from the mountaintops that roasted and unsalted cashews are an awesome sub for cheese in dishes that require heat (temperature)?
I made this, and […]