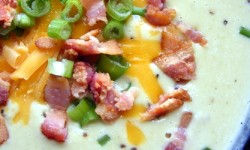 It's officially fall, and what better way to celebrate it than with a nice warm soup for those cold evenings?
I have to ultimate favorite soups in the world, clam chowder (is that even a soup?) and potato.  Well, if you are trying to be a low-starcher, then potato is pretty much out.  So the next best thing?  A thick Broccoli and Cheese soup.  It's very close to being the comfort food that potato soup is.
This recipe is fast and easy, and it is usually something I can make with ingredients I always have on hand.
If you ask me, […]