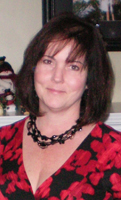 Biz gives so much more than just nutritional coaching.
Breakfast diet, lunch diet, dinner diet … I've been dieting since I was 16.  I've lost and gained so many pounds over these many years.  Nothing ever seemed to stick with me.  I know all the basics, eat less than you burn, don't eat late, etc. etc.  I was making myself sick thinking about dieting and how I would lose weight constantly.
Then, a friend introduced me to the hCG protocol.  I was skeptical for months, but she kept losing weight and said she felt so good.  I took the plunge January 19th, 2009.  I was referred to HTA [now Get Your Thin On] and I've used the support given and really enjoyed the site.  I've lost almost 50 lbs and am so thankful.
Still, something was missing.  I was following the food guidelines but I was still having slip ups.  I decided that I needed the one-on-one coaching provided by Biz.  I tell you, I have learned more about the reasons for my slip-ups than I ever thought possible.  Biz gives so much more than just nutritional coaching.  She makes you delve into the emotional side of your eating.  She is straight forward and makes you really think about what you are doing.  For me, that was exactly what I had been missing all these years.
Now, I no longer need to fear certain situations because I know how to handle them (for me, it was being alone while traveling) thanks to Biz.  I also know that with Biz as my coach, I can contact her anytime I need help.
I would definitely recommend that everyone try coaching with Biz.  You will be amazed at what you will learn about yourself.
Lisa K.
Buffalo, NY
Former Bod Squad Member
Biz starts a new cycle the first Monday of any week.  You can always get more information and an application by clicking here.

Updated 01.21.15