Who doesn't like deviled eggs?
Did you know that in the south it is almost mandatory to own some sort of deviled egg platter?
Every gathering you go to has some sort of deviled egg concoction.  These however leave all the other recipes you have in the dust.  These are quite simply put, just awesome.
Just an FYI … do you know why they are called "deviled"?
Evidently the term "deviled" first appeared around 1786 (in print) and it was used to describe a dish that was either fried or boiled and that was highly seasoned.  By the 1800's, "deviled" evolved into meaning dishes or condiments that were fiery hot.  During the 1900's, the term evolved again to describe hot seasonings, most specifically cayenne or mustard, both ingredients that are used in making deviled eggs today.
There is your little factoid for the day!
Enjoy!!!  I sure did!  ::giggle::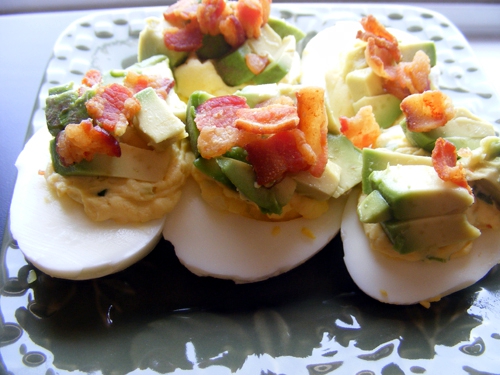 Avocado and Bacon Deviled Eggs
6 servings
20 minutes prep
30 minutes start to finish
12 eggs
1/2 cup mayo
1 1/2 tbsp Dijon mustard
4 green onions, minced
white pepper, to taste
salt, to taste
1 avocado, sliced thin and chopped
6 slices bacon, cooked, drained and crumbled
Place eggs in large pot and cover with cold water, add a bit of salt (it will help you peel them later).  When boiling, set timer for 12 minutes.
Give eggs a cold water bath and let them sit and cool.  Carefully crack each egg all over on the counter and without removing the shell, replace in cold water bath (this too makes it easier to peel).  Peel.
Slice each egg in half lengthwise with a non-serrated knife.  Carefully shake or scoop out the yolk and place the shell on a plate.  Add mayo, mustard, and minced onions to egg yolks and mash with a fork, stirring until smooth.  Add seasonings.
Place the egg mixture into a ziploc bag, snip off the corner and smoosh the eggs yolks back into their shells.
Carefully add a couple bits of avocado and a pinch of bacon bits on the top of each egg.
Entire Recipe:
2255 Calories
204g Fat (79% calories from fat)
94g Protein
26g Carbohydrate; 7g Dietary Fiber
2615mg Cholesterol; 2383mg Sodium; 2425mg Potassium
Per Serving:
376 Calories
34g Fat (79% calories from fat)
16g Protein
4g Carbohydrate; 1g Dietary Fiber
436mg Cholesterol; 397mg Sodium; 404mg Potassium
Serving Idea:  These are great as an appetizer, or the perfect thing to take to a gathering, but be careful, make sure you share a serving or two just for you!
Note:  This works better with the avocado being a little bit firmer.