Some people stay away from making Hollandaise Sauce because it looks to complicated. Who really understands anything about double boilers???
::giggle::
If it ain't easy, I ain't gonna do it, plain and simple.
THIS IS EASY! Give it a shot!
Nummy on asparagus. Shown here, I layered it on some quickly pan fried in butter cut up portabella mushrooms, an egg, and some bacon bits. I served it with a chopped salad and it became a great brunch for Sunday morning!
Enjoy!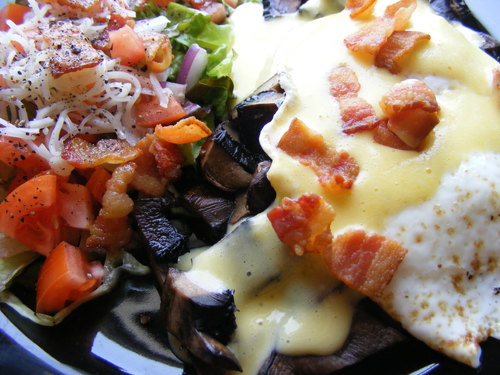 Blender Hollandaise Sauce
6 servings
5 minutes prep
10 minutes start to finish
3 egg yolks
1/4 tsp Dijon Mustard
1 tbsp lemon juice
1 dash of hot pepper sauce
1/2 cup butter
Combine egg yolks, mustard, lemon juice, and hot pepper sauce in the container of a blender.  Cover and blend for about 5 seconds.
Heat the butter until completely melted.  Set the blender on high speed and slowly pour the butter into the egg yolk mixture in a thin stream.  The sauce should thicken up immediately.  Keep the sauce warm until serving by placing the blender container in a pan of hot water.
Entire Recipe:
996 Calories
107g Fat (95% calories from fat)
9g Protein
2g Carbohydrate; trace Dietary Fiber
886mg Cholesterol; 989mg Sodium; 98mg Potassium
Per Serving:
166 Calories
18g Fat (95% calories from fat)
2g Protein
trace Carbohydrate; trace Dietary Fiber
148mg Cholesterol; 165mg Sodium; 16mg Potassium
Serving Idea:  I serve this over chopped up, slightly sauteed in butter portabella mushrooms with an egg on top, lightly sprinkled with bacon bits.  YUM!!!
Note:  Use immediately, this doesn't keep well.  Has a tendency to separate.