If you have a garden, it's usually around this time of year that you have a plethora of zucchini that you are running out of ideas on what to do with them. ::giggle::
This recipe is a great way to use up a lot of them!
This soup is pretty darn delish!  Soups on P2 are the awesome because they fill up your tummy without a lot of calories.  You can make this entire recipe and eat it all day!  It's only 317 calories!  YUM!!!
Dress it up for dinner by adding a serving of chicken and another veggie like cabbage, have a piece of fruit on the side and you have a great meal.
Enjoy!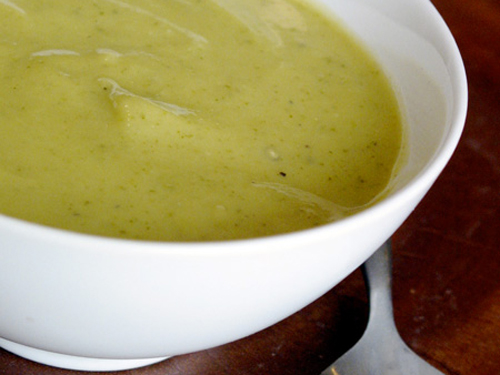 Zucchini Ginger Soup
8 servings
10 minutes prep
30 minutes start to finish
3 Tablespoons chicken broth (for heating the green onions)
6 each scallions, white parts only, thinly sliced
1.5 Tablespoons fresh grated ginger
2 pounds zucchini, trimmed, unpeeled and cut into small pieces
6 cups chicken or vegetable stock
Salt to taste
Put the chicken broth and sliced scallions in a large saucepan or stockpot and cook on low heat until the scallions are soft and translucent, without browning.
Add the grated ginger and cook for 30 seconds.
Add the zucchini and stock. Bring to a boil. Reduce heat, cover the pan, and simmer gently for 10 minutes, or until the zucchini is fully cooked.
Purée the soup with a blender, food processor, immersion blender, or food mill.
Taste for seasoning, adding more salt until it tastes good to you.
Entire Recipe:
317 Calories
3g Fat (1% calories from fat)
18g Protein
43g Carbohydrate; 14g Dietary Fiber
0mg Cholesterol; 13069mg Sodium; 3047mg Potassium
Per Serving:
40 Calories
trace g Fat (10% calories from fat)
2g Protein
5g Carbohydrate; 2g Dietary Fiber
0mg Cholesterol; 1634mg Sodium; 381mg Potassium
Serving Idea:  If you have leftover chicken, portion out one serving of the soup and one serving of chicken and heat together, it's a meal!  Make this a P3 meal by adding a little sour cream or Greek yogurt for garnish!  Also dress it up with a little cilantro!
Note:  This is great for those days when you need to have something all day long, just keep this on the stove and it's a great go to snack.  Awesome when it's cold.