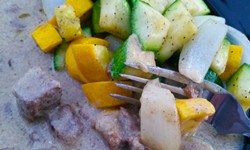 Who doesn't like Beef Stroganoff?  I don't think I have met a person yet.
Some interesting facts about this comfort food dish.
The dish originated in Russia, not in Germany like I originally thought.  Although the name is associated with Count Paul Stroganoff (Pavel Alexandrovich Stroganov), a 19th Century Russian Diplomat, the actual origins of the dish have never been confirmed.
The basic original recipe ingredients have not changed over time:  beef, mushrooms and sour cream.
Elena Molokhovets' classic Russian cookbook, A Gift to Young Housewives (1861) gives the first known recipe for Beef Stroganoff which involves lightly floured beef cubes (not strips) […]