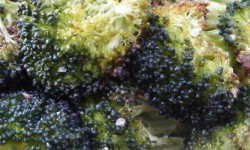 I am going to start this recipe off with a warning.
THESE ARE ADDICTING
That is all.  ::giggle::
But seriously.
If you are going to make these for P2, keep in mind that if you choose to eat the entire recipe, it will take up 1/3 of your allowed calories using The Biz Buzz Method (The First Step).  But oh my goodness, is it worth it!
There are two tricks with this particular recipe.
One is to make sure each and every piece is small (like the piece on the right of the picture) – the smaller they are, the more crunchy it gets, and then […]