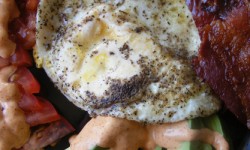 Been working with a few clients lately (as guinea pigs!) to test a true ketogenic diet, which is at least 80% fat.
For some out there, it's pretty easy to get your fats up to 65-70% – it's that extra 10-15% that leaves them scratching their head.
If there is one thing I can do, and do well, is to manipulate a menu to meet requirements, no matter what it is.
There is a buzz right now all around the internet about being in nutritional ketosis, and using that as a way to either lose weight, or for some, just simply maintain when […]