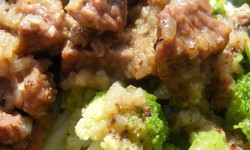 Who doesn't like roast Beef?
Sometimes on P2 we get the idea that food has to be bland and not interesting.  Why deprive yourself of a great tasting meal just because you are on P2?
Like the title says, this is easy peasy, and depending on what cut of beef you use, can be quick (some cuts might require more time simmering).
You can even cook this ahead and freeze in appropriate portions, and grab and go!  If you are looking for a place to fit some clean fats in, then a dollop of sour cream will go nicely with this.  Yum!
Enjoy!
Easy […]